Penny Mordaunt joins Tory leadership bid
Trade minister Penny Mordaunt has just announced her candidacy in the race to replace Boris Johnson.
Announcing the move on Twitter, Mordaunt said: "Our leadership has to change. It needs to become a little less about the leader and a lot more about the ship."
Key events:
Jeremy Hunt: 'What you need is smart tax cuts that will grow the economy'
Former health secretary and Tory leadership candidate Jeremy Hunt is being grilled by Sophie Raworth over his proposal to cut corporation tax amid the cost of living crisis.
He says current plans to increase corporation tax would mean "people won't want to set up businesses" in the UK and underlines his position as having "more experience in the cabinet" than any of his opponents.
"What you need is smart tax cuts that will grow the economy," he says.
"I set up my business because Nigel Lawson, Margaret Thatcher created a pro-enterprise environment. I was actually the only one of my friends leaving university who went off and set up their own business.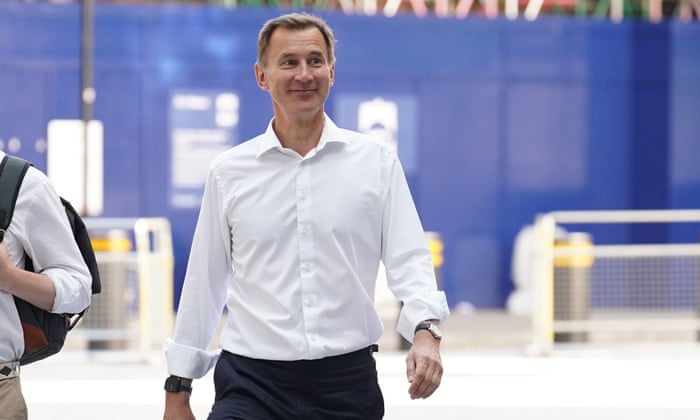 "I want more people to do that but if we're going to increase corporation tax, which is one of the biggest taxes businesses pay, so that it's more than not just Japan and America but more than France and Germany. Then people won't want to set up businesses."
Asked about the immediate issue of supporting families and individuals struggling to make ends meet, Hunt says such a policy would enable his government to ease the pressure on a long-term basis.
"When you cut people's personal taxes, which I passionately believe we must, it must be forever and that means it must be sustainable on the basis of growth in the economy." he says.
More to come from the Sunday politics shows this morning, but with Rishi Sunak seemingly absent from the rounds, it's worth noting the Observer's splash today.
Senior Tories have accused Boris Johnson of trying to torpedo his former chancellor's bid to succeed him as PM.
A former vice-chairman of the 1922 Committee of Conservative backbenchers, Sir Charles Walker, said pleas for restraint were pointless because there was so much bad blood.
"Clearly the prime minister remains deeply bruised by the chancellor's resignation. Rishi's camp will have to soak up a lot of anger over the days to come. That will apply to whoever takes over," he said.
You can read the lowdown from the Observer's political and policy editors, Toby Helm and Michael Savage, here:
Grant Shapps says he ran transport department 'very competently'
Transport secretary Grant Shapps is up on Sophy Ridge on Sunday now. He says there's three things needed now for leading the country and in order for the Tories to win the next general election.
"[They are] going to have to have complete competence, going to have to be able to communicate and going to have to be able to campaign," he says.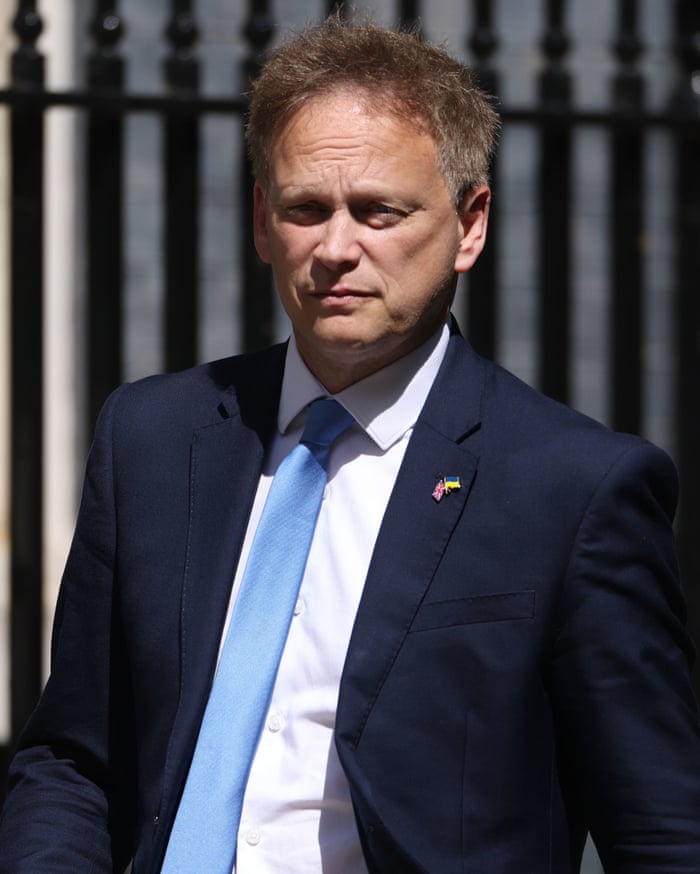 Shapps says his track record as a former Conservative party chairman and the way he has ran the Department for Transport "very competently" shows he's in possession of these skills.
"I think actually, I can use the same approach with the country," he said.
Tugendhat added, several times, that a "clean start" is needed for the UK, including for it to pave the way for a low-tax economy.
"What you need is a clean start. If you get a clean start what you get is the ability to look again at the economy and set out a 10-year economic plan that delivers a fairer and stronger economy," said Tugendhat.
On voting to remain in the EU in the Brexit referendum, he said he had "always respected" the outcome of the vote.
"What I want to do is get a clean start on the six-year-old arguments we've been having," he added.
Tom Tugendhat: 'I fought for my country and have been attacked there too'
First up on the media rounds this morning is Tom Tugendhat, a senior Tory and former soldier currently serving as chairman of the foreign affairs committee.
Asked by Sophy Ridge on her eponymous Sky News' Sunday morning show what experience he has for the job, given he has never served in any government role, Tugendhat highlighted his credentials as a veteran.
It's not an entry-level position but it's not a management position either, it's a leadership position and the reality is my entire career has been about serving our country," he led with.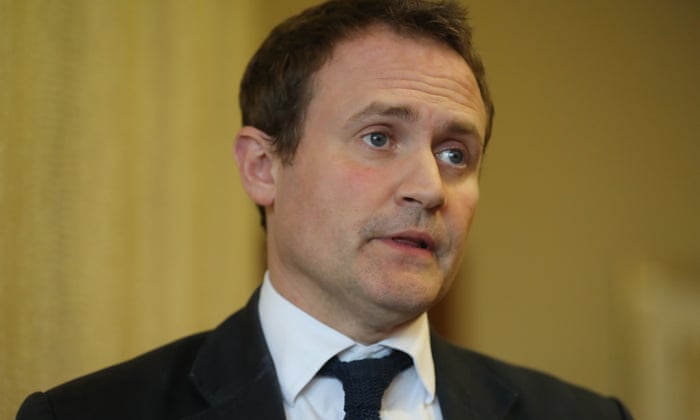 "[In] leading in combat operations in Iraq and Afghanistan, in leading in the foreign affairs domain, where as you know, I've very clearly stood up for our country.
"[I've defended] our country against Chinese economic threats and against Russian bullying in many different areas and that has led to me being sanctioned by one and quite viciously attacked by the other."
"I fought for my country and have been attacked there too."
Transport secretary Grant Shapps, who'll be on Ridge on Sunday shortly, has formally launched his leadership bid this morning.
Posting on Twitter, the Welwyn Hatfield MP declared himself "a problem solver, with a proven record of delivery".
He also said environment secretary George Eustice is backing him to be the next Tory leader.
A message attributed to Eustice on social media, shared by Shapps, said: "Grant has always shown good judgment and an ability to handle anything thrown his way.
"We have challenges ahead as we wrestle with the consequences of the pandemic and that is why I am backing Grant to be our next prime minister."
More on the Conservative leadership candidates from the Observer's political editor Toby Helm, who says the contest will highlight the rifts in the fractured party.
This weekend, Sunak is seen as the early favourite and was said yesterday to have at least 80 Tory MPs signed up behind his campaign. Announcing in a social media video his intention to stand, Sunak said he wanted to "restore trust, rebuild the economy and reunite the country".
Senior figures, including a former trade secretary Liam Fox, described Sunak as "an outstanding individual who's actually got a plan to see the spending of the government controlled over time. What we can't do is continue to spend money we haven't got and leave the burden on future taxpayers."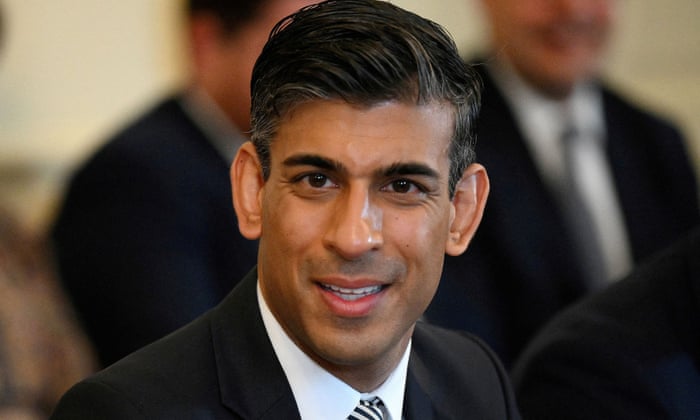 But no sooner had the ex-chancellor declared his ambition to run than the knives came out from his detractors, including cabinet ministers and people inside No 10.
Jacob Rees-Mogg, loyal to Johnson to the last, had his lines prepared. "We have had a high-tax chancellor and I belong to a low-tax party, and I want to see us getting back to being a low-tax party," the Brexit opportunities minister told BBC Radio 4's Any Questions. Earlier in the week, Rees-Mogg had said Sunak was "not a successful chancellor".
You can read more here:
Sajid Javid and Jeremy Hunt join Conservative leadership race
Good morning.
Former health secretaries Sajid Javid and Jeremy Hunt have thrown their hat in the ring to become Boris Johnson's successor.
It means eight Tories have so far put themselves forward to replace the prime minister, three days after he was forced to hand in his notice.
In their separate bids for the Tory leadership, Hunt and Javid both pledged to slash corporation tax.
Declaring their candidacies in the Telegraph, both said they would not only scrap former chancellor Rishi Sunak's plans to raise corporation tax from 19% to 25% in April, but reduce the rate to 15%.
It comes after two serving cabinet ministers, chancellor Nadhim Zahawi and transport secretary Grant Shapps, revealed their intentions to run for the top job in the space of an hour on Saturday.
The other candidates in the race so far are the attorney general Suella Braverman, ex-equalities minister Kemi Badenoch, Tom Tugendhat and Sunak.