[ad_1]

The COVID-19 pandemic will remain designated as a global public health emergency amid continued surges and variant evolution, the World Health Organization said.
The Biden administration is urging caution as cases traced to the BA.4 and BA.5 omicron subvariants increase, emphasizing the importance of booster shots.
Meanwhile, researchers at UT Southwestern created a rapid test that is able to identify different COVID-19 variants in a matter of hours.
We're updating this page with the latest news about the COVID-19 pandemic and its effects on the Seattle area, the U.S. and the world. Click here to see the rest of our coronavirus coverage and here to see how we track the daily spread across Washington.
Navigating the pandemic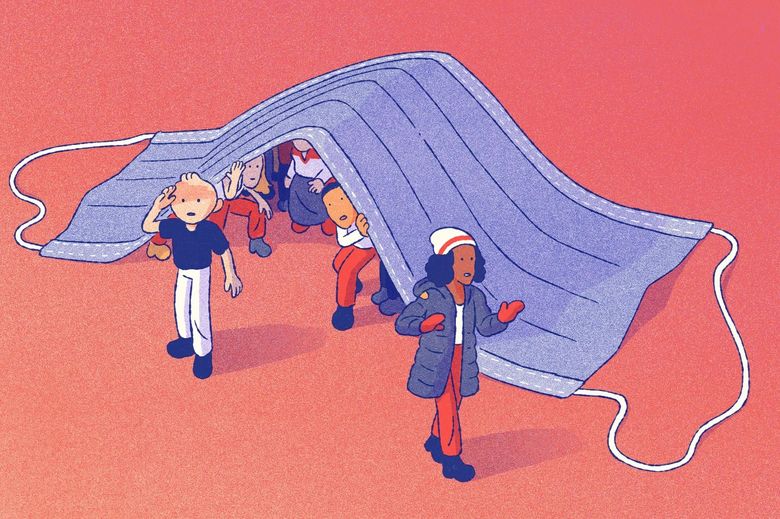 Amid COVID worries, fist bumps for Biden — with exceptions
The White House said President Joe Biden would try to limit physical contact during his Middle East trip because of concern about rising COVID-19 cases — but the president swiftly reverted to his old-school, back-slapping ways after landing in Israel on Wednesday.
He doled out a few fist bumps after stepping off the plane but then threw an arm around Israeli Prime Minister Yair Lapid and shook hands with former Prime Minister Benjamin Netanyahu.
The issue of contact is arising amid intense speculation about Biden's upcoming meeting with leaders in Saudi Arabia and whether he will shake hands with Crown Prince Mohammed bin Salman, who U.S. intelligence officials said probably sanctioned the killing of a critic.
Later Wednesday in Jerusalem at Yad Vashem, Israel's memorial to Holocaust victims, Biden held hands and kissed the cheeks of survivors Rena Quint, 86, and Giselle Cycowicz, who is about 95.
"Did you see the president hug me?" Quint asked. "He asked permission to kiss me and he kept on holding my hand and we were told not to touch him."
A new omicron variant, which is able to more easily evade immunity from vaccinations and previous infections, has revived concerns about the threat of the pandemic.
—Josh Boak and Aamer Madhani, The Associated Press
Bill Gates gives $20 billion to stem 'significant suffering'
Bill Gates, concerned about the "significant suffering" caused by global setbacks including the COVID-19 pandemic, announced Wednesday that he will donate $20 billion to his foundation so it can increase its annual spending.
The donation, combined with longtime board member Berkshire Hathaway CEO Warren Buffett's $3.1 billion gift last month, brings The Bill and Melinda Gates Foundation's endowment to approximately $70 billion, making it one of the largest, if not the largest in the world, depending on daily stock valuations. In an essay on the foundation's website, Bill Gates said he hopes "others in positions of great wealth and privilege will step up in this moment too."
The Gates Foundation plans to raise its annual budget by 50% over pre-pandemic levels to about $9 billion by 2026. The foundation hopes the increased spending will improve education, reduce poverty and reinstate the global progress toward ending preventable disease and achieving gender equality that has been halted in recent years.
According to the United Nations Development Program, 71 million people have been pushed into poverty since Russia's invasion of Ukraine in February, mainly due to food and energy price surges. Households in the Balkans, the Caspian Sea region and Sub-Saharan Africa have been hit particularly hard. The U.N. World Food Program reports that the number of acutely hungry people is now 345 million, up 25% since the start of the war in Ukraine.
"Despite huge global setbacks in the past few years, I see incredible heroism and sacrifice all over the world and I believe progress is possible," Bill Gates, the foundation's co-chair, said in a statement. "But the great crises of our time require all of us to do more… I hope by giving more, we can mitigate some of the suffering people are facing right now and help fulfill the foundation's vision to give every person the chance to live a healthy and productive life."
—Glenn Gamboa, The Associated Press
Cost-of-living crisis to hit women hardest, report says
A cost-of-living crisis sparked in part by higher fuel and food prices is expected to hit women the hardest, the World Economic Forum reported Wednesday, pointing to a widening gender gap in the global labor force.
The Geneva-based think tank and event organizer, best known for hosting an annual gathering of elites in the Swiss Alpine town of Davos, says a hoped-for recovery from a ballooning gender gap hasn't materialized as expected as the COVID-19 crisis has eased.
The forum estimates that it will now take 132 years — down from 136 — for the world to reach gender parity, which the organization defines around four main factors: salaries and economic opportunity, education, health, and political empowerment.
A breakdown by country gave top marks to Iceland, followed by several Nordic countries and New Zealand, as well as Rwanda, Nicaragua and Namibia. Germany, Europe's biggest economy, came in 10th place in the report of 146 countries. Further down the list were the world's biggest economies: the U.S. was at No. 27, China at No. 102 and Japan at No. 116.
The report, now in its 16th year, aims to track shocks to the labor market that can impact the gender gap.
—The Associated Press
S. Korea expands booster shots as COVID-19 cases creep up
Health officials in South Korea are expanding booster shots to adults 50 and over as COVID-19 cases creep up again across the country.
The 40,226 new cases reported Wednesday marked the country's highest daily jump in more than two months, although hospitalizations and deaths remain stable.
Baek Gyeongran, South Korea's top infectious disease expert, attributed the rising case counts to people's waning immunities following vaccinations and prior infections and a major removal of social distancing measures since April as the nation wiggled out of an omicron surge. Health workers are also witnessing a "rapid spread" of BA.5, which is seen as the most transmissible variant of omicron yet, Baek said.
Officials say the country may see daily case counts of 200,000 by mid-August or September if infections continue to grow. However, they don't have immediate plans to meaningfully elevate social distancing restrictions, which have been effectively stripped down to an indoor mask mandate over the past months.
—Kim Tong-Hyung, The Associated Press
Long COVID treatments: Hyperbaric oxygen therapy could be the key, new study reveals
A new long COVID study will likely provide hope for the millions of people suffering from the debilitating condition, as researchers on Tuesday revealed that hyperbaric oxygen therapy is the key to a long COVID treatment.
The study included 73 long haulers with post-COVID-19 cognitive symptoms, such as brain fog, inability to concentrate, forgetfulness and difficulty recalling desired words or thoughts. These symptoms had persisted for more than three months following a confirmed virus infection — a crippling condition that affects up to 30% of COVID patients.
Participants in the study were divided into two groups: 37 patients received hyperbaric oxygen therapy treatment and 36 were designated into the sham-controlled group (placebo sessions received normal air).
Those who received the hyperbaric oxygen had 40 daily treatment sessions — five sessions per week within a two-month period. The patients entered a hyperbaric oxygen chamber, and breathed 100% oxygen by mask at twice the atmospheric pressure at sea level, for 90 minutes with oxygen fluctuations.
According to the study's results, patients treated by hyperbaric oxygen had "significant improvement in their global cognitive function and more cognitive improvement related to their specific damaged brain regions responsible for attention and executive function." Patients also saw significant improvement in their energy, sleep, psychiatric symptoms and more.
—Rick Sobey, Boston Herald
Will Americans have the right COVID-19 vaccine this fall? Maybe
In a few short months, the coronavirus may embark on its third consecutive winter of death and devastation. That prospect has federal regulators and their scientific advisers engaged in a high-stakes guessing game.
The question: How should the COVID-19 vaccine change?
Certainly, the circumstances have changed. The coronavirus strains responsible for 97% of infections today — BA. 4, BA. 5 and BA. 2.12.1 — didn't exist in 2021, let alone in 2020. Yet all of the vaccines currently available in the U.S. are designed to recognize the version that left China in January 2020.
The ubiquitous omicron subvariants, however, have several mutations on their crucial spike proteins that make them less recognizable to an immune system primed to fight the 2 1/2-year-old virus.
The result: A real-world study found that the protection from three doses of mRNA vaccine is half as strong against omicron compared to the Delta variant that preceded it.
Determining which recipe should go into future boosters to induce optimal protection — the vaccine's "composition" — is an exercise in educated guesswork.
Experts need to predict which coronavirus variant — or variants — will dominate the U.S. landscape in late 2022 and into 2023. Then they need to forecast whether altered versions of the mainstay vaccines will be effective, and whether they pose new challenges regarding safety, cost or timely distribution.
Getting a timely and accurate fix on all this "is truly a challenge, and it is science at its hardest," Dr. Peter Marks, the U.S. Food and Drug Administration's vaccine chief, told the agency's independent advisers last month.
—Melissa Healy, Los Angeles Times
Pandemic kept many children less active around the world, researchers find
As children around the world stayed home, studied remotely and became more socially isolated during the coronavirus pandemic, they also became less physically active, according to a new review of almost two dozen studies that was published Monday in medical journal JAMA Pediatrics.
The pandemic led to children's daily physical activity declining by 20%, according to the review, which analyzed the results of 22 studies published in English that compared activity before and during the pandemic.
The review included studies published between January 2020 and January 2022, with a total of more than 14,000 participants under the age of 18 around the world. (It did not include any samples from Africa.)
The studies revealed an average decrease of 17 minutes a day in children's "moderate-to-vigorous physical activity" during the pandemic.
—Johnny Diaz, The New York Times

Seattle Times staff & news services
[ad_2]

Source link