Ben Wallace will not join race to become leader
The defence secretary, who had been an early frontrunner, now says he does not wish to run as leader. Instead, he says his focus should remain on "keeping this great country safe".
Key events:
'I stood up for myself' says MP after gesturing at Downing Street protesters
The minister who was seen shouting and sticking her middle finger up to crowds outside Downing Street earlier this week has said she was "standing up for herself" after receiving death threats.
Footage of Andrea Jenkyns showed her sticking her middle finger up to protesters as she entered Downing Street, and then shouting at them as she left after watching Boris Johnson's resignation speech on Thursday.
There have been complaints about the newly appointed education minister's behaviour from both Labour and Conservative MPs. The chief executive of the Chartered College of Teaching, Dame Alison Peacock, has also written to the Department for Education's permanent secretary, Susan Acland-Hood, to say she has fallen short of "high standards of behaviour" expected from ministers.
Jenkyns' statement, published on Twitter, said: "On Thursday afternoon I went to Downing Street to watch the prime minister's resignation speech. A baying mob outside the gates were insulting MPs on their way in as is sadly all too common.
"After receiving huge amounts of abuse from some of the people who were there over the years, and I have also had seven death threats in the last 4 years. Two of which have been in recent weeks and are currently being investigated by police, I had reached the end of my tether.
"I responded and stood up for myself. Just why should anyone have to put up with this sort of treatment.
"I should have shown more composure but am only human."
Here is Ben Wallace's full statement. He was the bookmakers' second favourite, behind Sunak, before pulling out of the race.
After careful consideration and discussing with colleagues and family, I have taken the decision not to enter the contest for leadership of the Conservative party.

I am very grateful to all my parliamentary colleagues and wider members who have pledged support.

It has not been an easy choice to make, but my focus is on my current job and keeping this great country safe.

I wish the very best of luck to all candidates and hope we swiftly return to focusing on the issues that we are all elected to address.
Ben Wallace will not join race to become leader
The defence secretary, who had been an early frontrunner, now says he does not wish to run as leader. Instead, he says his focus should remain on "keeping this great country safe".
Andrew Bridgen, who was one of the MPs to become a prominent early critic of Boris Johnson as his premiership entered its final months, has said that he believes a deal could be struck to choose a new prime minister within the next fortnight.
It would mimic the short timeframe between David Cameron's resignation, expecting him to be a caretaker prime minister, before Theresa May won the Conservative party leadership – meaning that Tory members would not get a vote. It would mean a new leader before the upcoming summer recess.
Bridgen told LBC's Matt Frei: "The 1922 Committee will truncate the leadership rules so we will be down to two candidates before summer recess, they will go out to the membership, probably three weeks or four weeks and we'll have a new prime minister and a new government before the end of August.
"I think it's even possible Matt, that in just over two weeks time we'll get down to two candidates, who may even come to an accommodation given the pressures to form a government and move on both domestically and internationally."
He said there would be a candidate from the right of the party who would win, and it was possible that there would be a deal with the other candidate to speed up the process.
"I think the 1922 will make that threshold at least 20 … they will move it up to 20 or 25 nominations to reduce the field to four or five and we can easily whittle that down in a fortnight to two candidates."
Endorsements are starting to trickle in. Caroline Dineage, the Gosport MP, has told Penny Mordaunt that she has her support.
Mordaunt has not formally declared her candidacy yet but is thought to be popular among MPs and members.
Elsewhere Bim Afolami, who resigned as vice-chair of the Conservative party during a live TalkTV interview on Wednesday, has said he will back Rishi Sunak.

RMT head Mick Lynch is appearing on Sky News, live from the Durham Miners' Gala (see 10:10).
Disputes still continue between the union and railway companies, as Lynch calls for the government to intervene and says firms want to "strip thousands of jobs out of our industry, dilute or rip up our terms and conditions and they won't give us a payrise".
Lynch says more strike action is likely. "They are proposing to make our people poorer. Now railworkers won't accept that and I've got a feeling … that workers want to fight back."
Tony MPs hit back at 'treacherous' Sunak
Peter Walker
My colleague Peter Walker has written this piece on the rows inside the Conservative party as the leadership contest gets under way.
The race to succeed Boris Johnson as prime minister was already slipping into acrimony on Saturday as Conservative factions briefed against Rishi Sunak, the early favourite, while one senior MP called for "no hope" candidates to drop out.

With four candidates confirmed, but predictions that up to 15 could put themselves forward as the next Conservative leader, Tory MPs expressed concern at the potential timetable for the race, and the prospect of bitter in-fighting.

Sunak, the former chancellor, who entered the race on Friday evening with a slickly edited video campaign message posted on Twitter under the slogan "Ready for Rishi", is viewed as one of the likely frontrunners.

But he has already faced criticism among fellow MPs for indicating he will focus more on fiscal prudence than immediate tax cuts, with his video taking aim at other candidates who might offer "comforting fairytales" rather than economic truths.
George Freeman, who was once regarded as one of the policy brains behind Theresa May's government and resigned as a minister on Thursday, has criticised Andrea Jenkyns for her gesture to protesters outside Downing Street earlier this week (see 10:00).
Treasurer of the 1922 Committee Sir Geoffrey Clifton-Brown has criticised Nadine Dorries' comments about the leadership race after she said it had "unleashed the hounds of hell".
The senior Tory told Times Radio: "I think it's not helpful … However we do this process we do want to unite the Conservative party behind a candidate.

"And that is why I think it needs to be a proper, open, democratic process so that everybody can see what's going on.
"Hopefully, we will do it without any hitches and I think that is the way that we will end up with a candidate that everybody will ultimately support as a leader of the party and the next prime minister."
There will be a lot of behind-the-scenes pieces on what exactly happened in No 10 this week as Boris Johnson tried to cling to political office, before slowly coming to accept that he had to resign.
Alex Wickham has written this account for Bloomberg, after speaking to people close to events inside Johnson's final hours before resigning.
It includes details of a teary meeting between Priti Patel and Boris Johnson, the exchange between the PM and Michael Gove when he was sacked, and an awkward embrace between Johnson's director of communications Guto Harri and Rishi Sunak, hours after Johnson announced his resignation.
That night, some of those who might replace him attended a garden party hosted by the Spectator magazine.

Johnson's communications chief Guto Harri got into a blazing and public row with Gove adviser Josh Grimstone, who accused Harri of briefing against his boss.

A Sunak aide spotted Harri and went over for a hug. According to people present, a smiling Sunak, standing next to her, asked Harri: "Don't I get one?"

"You want a hug?" Harri said in disbelief, knowing that the former chancellor had made no contact with Johnson since his shock resignation. Harri had spent his week fighting to save the prime minister, Sunak was aiming to replace him, and in front of London's political elite, the two men shared an awkward embrace.
Tugendhat in pitch to Scottish Tories for 'strengthened union'
Tory leadership candidate Tom Tugendhat has made his first pitch to Scottish Tory members, stressing the need for "serious and tested leadership" for the party to be successful in Scotland.
The MP, who this week put himself forward to replace the beleaguered Boris Johnson as prime minister, said the party required a "fresh start" after the dramatic exit of the former leader.
Tugendhat is thought to have support among Scottish Tory MSPs, with chief whip Stephen Kerr and North East representative Douglas Lumsden having publicly declared their desire to see the Commons Foreign Affairs Committee chairman take over.
Writing in the Times, Tugendhat said the party is the only one that voters can "trust to unequivocally stand up for the union and Scotland's role within it".
He added: "If we are to defeat Labour and the SNP-Green coalition, our party will need a fresh start under serious and tested leadership.
"I have put my name forward to lead the Conservative party to help deliver that fresh start."
Tugendhat continued: "We must act now to restore trust and repair integrity in British politics; the challenges we face at home and abroad require sober leadership.
"A clean slate is an opportunity to restore this integrity to our politics."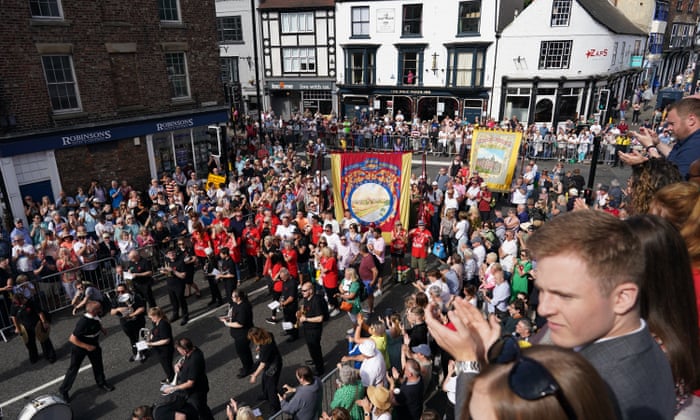 A brief break from the contest to become the next prime minister, as the annual trade union jamboree the Durham Miners' Gala takes place today. Brass bands and banners will be marched through the centre of the city in north-east England.
It comes as trade unions have had higher prominence recently with the cost of living soaring, and RMT strikes in June. The railway union is celebrating getting a deal with Merseyrail that has secured 220 jobs.
Unlike his predecessors Jeremy Corbyn and Ed Miliband, Labour leader Sir Keir Starmer won't be addressing crowds.
Away from Sunak's leadership campaign, Spencer also responded to the video of newly-appointed education minister Andrea Jenkyns giving the middle finger to protesters outside Downing Street.
The previous day she had shouted at crowds as she left the security gates at the end of Downing Street, following Boris Johnson's resignation speech.
He refused to say whether Jenkyns should be sacked, but said: "I don't think it is [acceptable]. I don't seek to condone that at all. Andrea will have to justify that for herself. I do understand that emotions were running pretty high and pretty raw that day, but I don't think it was the right thing to do at all."
Mark Spencer, the leader of the House of Commons who is backing Rishi Sunak, has just been speaking to BBC Breakfast.
He was keen to praise the former chancellor's "experience and ability", using the phrase three times in the interview with Naga Munchetty. He said that the furlough scheme and recent cut in national insurance was a sign that Sunak understood people's concerns about the cost of living, despite his own wealth, and was prepared to take big action to support the economy.
However Spencer didn't indicate whether Sunak would cut taxes, after his line about "comforting fairytales that might make us feel better in the moment" in his leadership launch video.
He said: "What he's saying is 'I'm prepared to make big decisions and I'm prepared to take decisions that might not be popular. When you look at his record, this is the chancellor of the exchequer who took £5bn off fuel duty, and lowered the national insurance threshold this week. That's millions of people who have been taken out of that tax bracket.

"He's also the chancellor that kept lifting the threshold for people on universal credit at the bottom of the wage bracket, so they keep more of their cash. That's fiscal responsibility and that's what we will require."
Will Walden, who was Boris Johnson's communications director for four years until 2016, has an interesting anecdote about the former prime minister that feels indicative after the last few months.
It's from 2015, when Johnson had tried to wheel his bicycle impossibly through the steel rotating exit gates that people have to pass through to get in and out of parliament.
Two minutes later and Boris Johnson stood shamefaced, sheepish, that 'caught with his hand in the sweetie jar' look on his face. "Bollocks it's bloody stuck," he offered.

Not you will note "I've got the bike stuck", rather "it's stuck", almost as if someone else put it there, and unfairly blamed him. Having ignored advice, ploughed on, and tried and failed to force a big object through a tiny gap, Johnson said "can you sort it" and simply disappeared.

Ten minutes later I'd extricated the bike, wheeled it out of the bicycle exit, returned it to its owner and watched him pedal off in that "nothing to see here guv" way of his.

I tell this story not because it wasn't amusing at the time, it was, but because it is instructive of why, six years on, Johnson is on the way out of a different exit gate, his dream of remaining world king in tatters.

Crazy idea, corners cut, hopeless execution, a stubborn refusal to listen to others, no plan B, no need for change, responsibility, er no, and aside from a wry smile the next day, the distinct sense that it had never happened.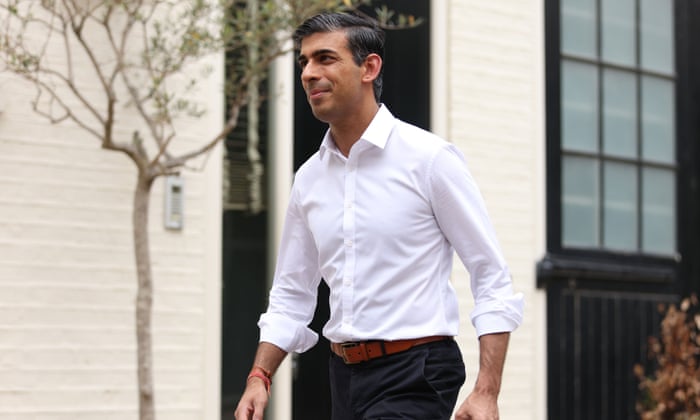 Jake Berry, who leads the Northern Research Group that represents Tory MPs in northern England, says that he won't be running for leadership, despite "being asked by colleagues to throw [his] hat into the ring".
In a thread on Twitter, he called for a fair funding formula for the regions and an education system that helps people get "higher level apprenticeships".
Rishi Sunak's allies are lobbying former health secretary Sajid Javid to join his campaign for the leadership rather than run himself, according to the Times (paywall).
Javid resigned on Tuesday, minutes before Sunak stood down as chancellor. A day later he gave a resignation statement to the Commons after a torturous Prime Minister's Questions for Boris Johnson.
In it he encouraged other cabinet ministers to resign, telling MPs: "I have concluded that the problem starts at the top, and I believe that is not going to change."
The Times is reporting that members of Sunak's campaign team have been in contact with Javid, telling the Bromsgrove MP that he "lacks the support and basic 'infrastructure' to make significant inroads and that they are vying for the same voters".
So far the former chancellor has rejected the overtures and is expected to focus his campaign on tax cuts, something that looks likely to be a key topic in the contest, with Sunak warning against "comforting fairytales that might make us feel better in the moment".
Badenoch: 'nimble centre-right vision' needed to take on 'cultural establishment'
Another Conservative MP to throw their hat into the ring late last night is Kemi Badenoch.
She resigned earlier this week as equalities minister and a minister in the department for levelling up.
Badenoch has been one of the MPs involved with the party's focus on "culture war" topics of race and gender. One of Johnson's closest aides during his time in Downing Street, Douglas Smith, is quoted as saying: "She fights his war on woke."Badenoch has written a piece for the Times (paywall) launching her leadership bid. It trends heavily on the Brexit vote and Boris Johnson's election win in 2019.
She said:
My vote for Brexit in 2016 was a vote of confidence in our abilities as a sovereign country. We have failed to capitalise on that election winning majority of 2019. Change does not mean reheated versions of 1970s, '80s or '90s policies, but a new mission for our age. This requires a smart and nimble centre-right vision that can achieve things despite entrenched opposition from a cultural establishment that will not accept that the world has moved on from Blairism.
On critics of the government's approach over areas like identity politics, she says it is the "very opposite of our crucial and enduring British values".
Meanwhile our country is falsely criticised as oppressive to minorities and immoral, because it enforces its own borders. We cannot maintain a cohesive nation state with the zero-sum identity politics we see today.

Exemplified by coercive control, the imposition of views, the shutting down of debate, the end of due process, identity politics is not about tolerance or individual rights but the very opposite of our crucial and enduring British values.

And if we are to see the change we need in this country we need an intellectual framework which recognises that in politics, there is no division between the cultural or economic sphere. It is no surprise the fiercest proclaimers of "social justice" usually believe in the power of government over the people, in the power of the bureaucrat over the individual, and have a distrust of people making their own decisions in the economic sphere just as much as the social.