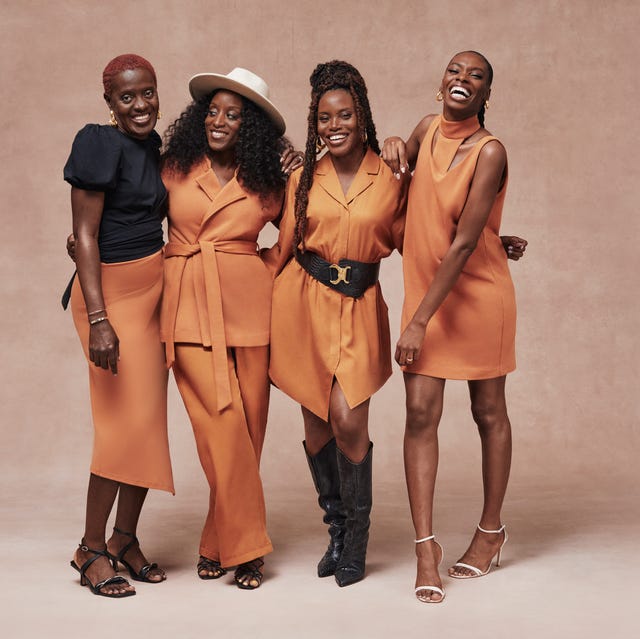 Courtesy of TEREA
"Inclusivity," "diversity" and "joy" were bandied about in fashion houses and on runways this year, but these terms are nothing new to Andrea Pitter, winner of season two of Amazon Prime Video's Making the Cut. The daughter of Jamaican immigrants, Pitter has been championing those underrepresented in the industry since launching Pantora Bridal in 2009. The prize for the global competition—which included a million dollars, a mentorship with Amazon Fashion, and more—allowed the Brooklyn-based designer to expand her ready-to-wear brand. She also won a partnership with Amazon Fashion on a co-brand. "The show opened my world," Pitter says. "I created something that I thought was huge. It gave me the opportunity to take a step back and look at the big picture."
TEREA, Amazon Fashion's first-ever co-brand with a winner from Making the Cut, launches today and includes timeless wardrobe essentials at accessible price points. Combining soft fabrics in earthy, mix-and-match shades with modern silhouettes, the pieces are as versatile as it gets, transitioning from day to night with a simple style tweak or two. And the pieces not only look good, but carry good vibes. "I'm a joy chaser which is why joy is embedded in my brands' DNA," Pitter explains.
True to her POV, Pitter, who is inspired by "the 3 ps!—people, pleasure and places," designed them to work for those of all ages, shapes and sizes—each piece runs from XXS to 5X. ​​"What I love about TEREA is that every piece is universal to fit the varying tastes and style preferences for customers of all ages, shapes and sizes," she says. "I hope every customer is able to find themselves reflected within each item to give them confidence, no matter the time or the place."
The line is indeed designed to be inclusive for all, despite her celeb status. "Andrea Pitter was a fan favorite on season 2 of Making the Cut and even after the season finale, we're excited to continue providing customers with more ways to connect with Andrea's vision of intertwining high fashion with approachability," says Muge Erdirik Dogan, president of Amazon Fashion. "TEREA offers customers silhouettes that will become staples in their closets."
Check out some of our top picks from Pitter's exclusive co-brand with Amazon Fashion below. And be sure to keep an eye out for the flattering, cinching bungee: "There's a bungee detail I've fallen in love with and hope to incorporate it for seasons to come," Pitter says.
Advertisement – Continue Reading Below
1
Zoe Cinched Waist Oversized Shirt
Oversized doesn't have to mean shapeless. Case in point: this textured cotton-blend shirt with a curve-enhancing elastic waistband and high-low hem. Pair the top with same-colored wide pants for a modern twist on a suit.
Ab-baring styles are tops this season, and this cotton-blend bralette is no exception. Double shoulder straps and a tie-back closure add interest and support. Wear it solo or layer under a tailored blazer for a subtle take on the trend.
Upgrade your athleisure wear without sacrificing comfort with a wide-leg drawstring pant in a mood-boosting shade. Swap your slippers for platform heels and you're ready for happy hour or brunch with the girls.
4
Elise Double Layer Mini Dress
A dress made for moving is the best kind of dress. Crafted of soft Tencel lyocell (which are fibers crafted from wood and known for their lightweight and comfortable feel), the flirty mini has a universally flattering fit that will have you feeling sexy and comfortable, but not too exposed.
This longline knit vest transforms even the most casual outfit—think jeans or joggers and a tank top or bralette—into a statement look. Team with other pieces in the warm terracotta hue and prepare to get compliments on your office-worthy ensemble.
6
Jayla Cutout Midi Swing Dress
With its of-the-moment length, puff sleeves, and cleverly placed cut-out, this fit-and-flare dress ticks all the trend boxes. Thanks to the neutral shade and classic silhouette, it's destined to be a go-to piece for years to come.
This content is created and maintained by a third party, and imported onto this page to help users provide their email addresses. You may be able to find more information about this and similar content at piano.io
Advertisement – Continue Reading Below