Once again, fundamental issues are being overshadowed by Quebec's taking of offence.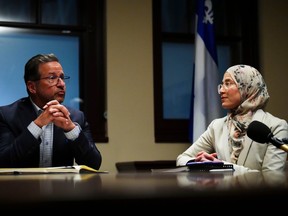 Article content
Since then, the past writings of the human rights activist and journalist have been dredged up, and one line in one opinion piece she co-authored in the Ottawa Citizen in 2019 has been seized upon as an unforgivable insult to all Quebecers. (A few questionable tweets were later uncovered.)
"Unfortunately, the majority of Quebecers appear to be swayed not by the rule of law, but by anti-Muslim sentiment," Elghawaby wrote in reference to a poll showing widespread support in Quebec for Bill 21, the province's secularism law, which prevents public servants in positions of authority, including teachers and police officers, from wearing religious garb.
Article content
The passage has been widely interpreted as Elghawaby labelling Quebecers Islamophobes.
Cue the outrage. The Quebec government has officially requested her removal. Three out of four parties adopted a motion in the National Assembly calling for her to apologize — or resign. Media commentators have deemed her unfit to serve as the federal government's discrimination watchdog. Premier François Legault has said Prime Minister Justin Trudeau's "100 per cent" support for Elghawaby is proof of his "contempt" for Quebec.
There's nothing like criticism from an outsider to prompt Quebec's political establishment to forget their differences, band together and circle the wagons.
Elghawaby is a passionate defender of rights — those of women, minorities and Muslims. She has a long track record of speaking out against prejudice at the National Council of Canadian Muslims, the Canadian Race Relations Foundation and the Canadian Anti-Hate Network, not to mention her journalism.
Article content
Full disclosure: I went to university with Elghawaby. We worked at the student newspaper together.
Did she insult Quebecers? Well, Quebecers sure are insulted. Did she mean to? I doubt it. Does she regret not choosing more nuanced words? I reached out to her, but haven't heard back.
On Wednesday she apologized, saying she is "extremely sorry" for hurting Quebecers. It wasn't enough to quell the furor, however. The Legault government called her mea culpa "too little, too late" and doubled down on demanding her departure.
Although there's a certain irony in the blowback against Elghawaby's slight in a province that recently passed a bill to protect free speech from political correctness in academia — including the use of the painful N-word — it is essential to understand Quebec's unique sensitivities.
Article content
The ironclad grip of the Roman Catholic Church that was shaken off during the Quiet Revolution left a lingering skepticism of all religions and created a deep attachment to secularism. Likewise, feminism's contributions to modern Quebec society have made gender equality a cherished value. Yet this conviction has also fed misperceptions about why some Muslim women wear the hijab.
But much of what is troubling about this uproar has little to do with what Elghawaby wrote or meant.
Once again, fundamental issues are being overshadowed by Quebec's taking of offence. Whether it's systemic racism, Islamophobia, the subversion of minority rights or the allowance of discrimination because laws have been shielded by the constitutional override, they are playing second fiddle.
Article content
Yes, Quebecers have historical grievances that should not be diminished. But at a certain point, Quebec has to move beyond them and stop using the past as an excuse to ignore the injustices of the present, or injustices against others.
Once again, the Legault government has managed to weaponize any criticism of Quebec as "a frontal attack."
Last week, it was Trudeau's concern about pre-emptive use of the notwithstanding clause undermining constitutional rights in Ontario as well as Quebec. This week it's Elghawaby's opposition to Bill 21, which the Quebec Superior Court has already ruled violates the rights of religious minorities, especially Muslim women.
The Legault government has so successfully entangled these matters with Quebec's values, identity and autonomy that challenging them is practically heresy. And once umbrage has been stoked, the opposition parties fall in line, trying to outdo each other as the most ardent defenders of Quebec's honour.
Article content
This groupthink takes hold even with parties, as Liberal MNA Jennifer Maccarone found out the hard way. She had to apologize for being too quick with her Twitter finger in voicing sympathy for Elghawaby. Turns out interim Liberal leader Marc Tanguay wanted to join the pile-on.
All this creates a growing intolerance of dissent that is dangerous for democracy, has a chilling effect on free expression and further casts doubt on just who is included in the definition of the Quebecers who have been so disrespected.
Part of the outcry over Elghawaby's comments focused on the fact she singled out Quebecers for having anti-Muslim attitudes. Indeed, Quebecers are no more racist than other Canadians. Data from the poll Elghawaby cited even shows it. And if ever there was evidence a majority of Quebecers are not Islamophobes, it was in the outpouring of support for the Muslim community in the aftermath of the mosque attack.
But Quebec is also the only province that has a law restricting the rights of religious minorities, and Bill 21 is very popular among Quebecers.
It shouldn't be so scandalous to point that out.