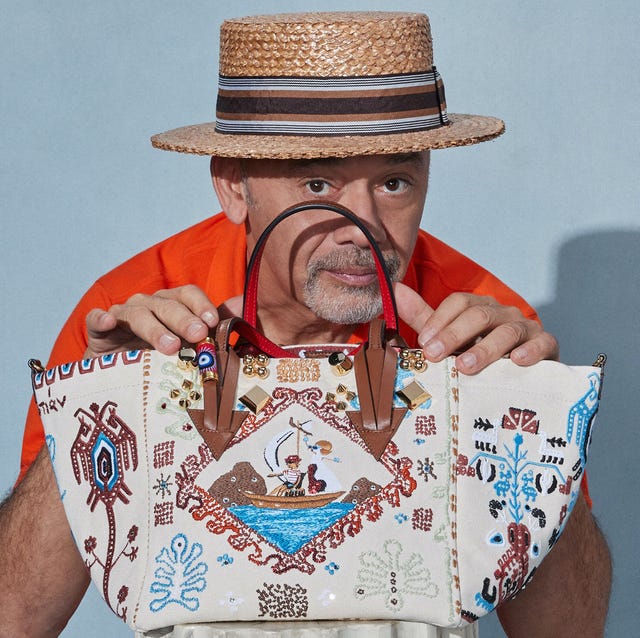 Christian Louboutin
If the wanderlust trend is on your radar this season, Christian Louboutin's latest Greekaba capsule collection is your ticket to explore it via extraordinary accessories.
Inspired by the designer's love of travel and far-flung adventures, Greekaba's aesthetic pays tribute to the rich cultural heritage and craftsmanship of the Mediterranean. The collection features playful illustrations by Christian Louboutin's friend, artist and illustrator, Konstantin Kakanias, taking you on a modern-day odyssey through Athens and the Cyclades. Offered in vibrant Grecian-inspired palettes, these five pieces are your route to sartorial success for summer and beyond. No passport required.
This year, Christian Louboutin is donating a percentage of proceeds to Together for Children, a Greek non-profit association working to provide support for children and young adults with disabilities. The aim is to help them build positive thinking, inspire creativity, and develop their self-expression—all core values of Christian Louboutin.
Greekaba Small
Every travel aficionado needs a reliable tote for flying, touring, and beaching. Crafted in embroidered fabric, the Greekaba features captivating illustrations inspired by the Greek islands. Signature gold spikes and beading make it the ultimate style statement.
Hot Chick 100 mm
With a palette as blue as the Aegean Sea, the patent calf leather Greekaba Hot Chick pump has a Loubi Odyssey print of a Greek treasure map and a sophisticated shape with a pointed toe and v-shaped notches. Inside, you'll find stamps that resemble mini postcards; it's the kind of meticulous attention to detail for which Christian Louboutin is known.
Movida Athina 130 mm
These Movida Athina sandals might as well come adorned with their own passport stamps. The red-soled platforms with a towering heel and wedge sole crafted from brown leather are embossed with motifs inspired by Ancient Greece. Ankle straps in gold-laminated leather, Loubi Eye crêpe satin lining, and white Caraspikes further elevate the statement sandal. From your favorite linen sundress to tailored denim, there's no outfit this footwear won't elevate.
Inspired by the robust and dynamic culture of the ancient Greeks, this embossed calf leather tote is a showpiece of the collection. The exclusive illustration by artist Konstantin Kakanias enchants and enthralls. The bag's size make it the perfect cary-all for exploring old cities and modern attractions.
5
Eye-Catching Evening Heels
Sandale Du Désert 100 mm
Protect your spirit and feel sexy, too, with these red and blue Loubi Eye print sky-high heels. Crafted of crêpe satin to reflect the chic finish of a scarf, these bold sandals are the perfect pairing for a LBD worn for an evening of lingering over a romantic dinner with a sea view.
This content is created and maintained by a third party, and imported onto this page to help users provide their email addresses. You may be able to find more information about this and similar content at piano.io